All-on-4 – Longmont, CO
Permanently Replace All of Your Teeth
You might be nervous at the prospect of getting dental implants if an entire arch of teeth is missing. How many posts will need to be placed to completely restore your smile? As it turns out, it could be a lot fewer than you might think. Dr. Brian Coats is proud to recommend All-on-4 as a way to replace multiple missing teeth with just four dental implants; call us for more information about this cutting-edge treatment that can help you get back a complete grin!
Why Choose Coats Dental Group Family & Cosmetic Dentistry of Longmont for All-on-4?
Family Owned and Operated Practice
State-of-the-Art Technology
Passionate, Friendly Team
How Do All-On-4 Implants Work?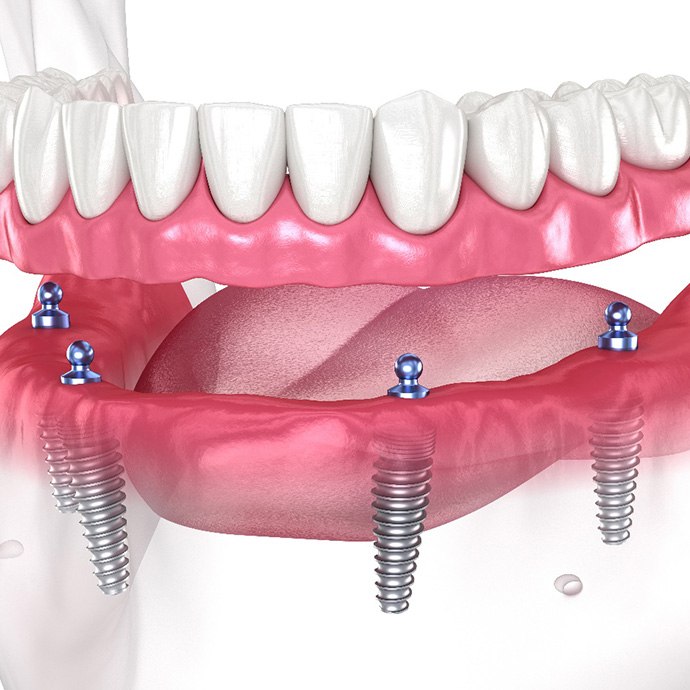 Your mouth will be scanned in order to determine where the dental implant posts need to go. Then the posts are placed in the appropriate areas of the jaw. The two posts located near the back of the mouth will be inserted at an angle; doing so gives them more bone to join with.
The implant posts will be used to support a full denture, thus replacing all of your teeth while ensuring that your new prosthesis has sturdy artificial roots to hold it in place.
Am I a Candidate for All-On-4 Implants?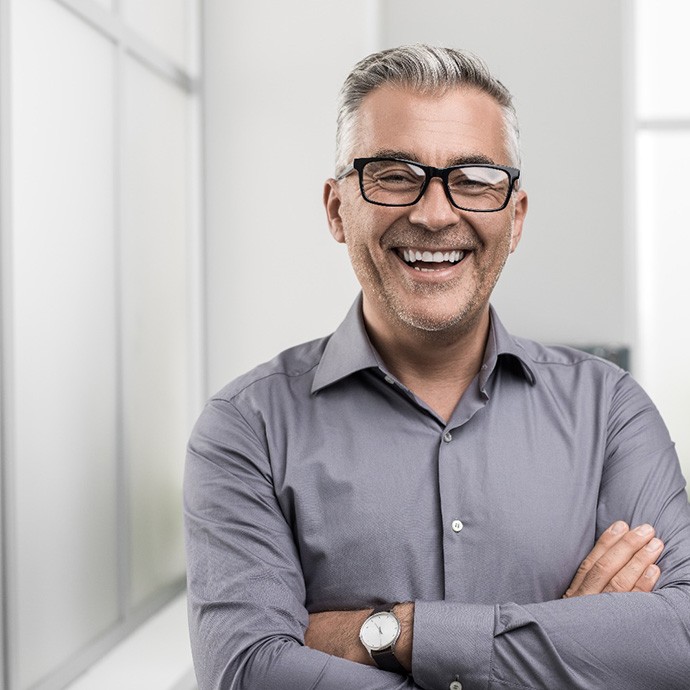 Even people who are unable to get traditional dental implants might be able to have All-on-4 performed. Thanks to the way the implant posts are placed, less jawbone density is needed. As a result, All-on-4 can still be a viable option even for people who have experienced bone loss as a result of losing their teeth.
You may qualify for All-on-4 if:
You are an adult.
Most or all of the teeth in one or both arches are missing.
You do not have gum disease.
You do not have any health issues that would stop you from having surgery done.
Benefits of All-On-4 Implants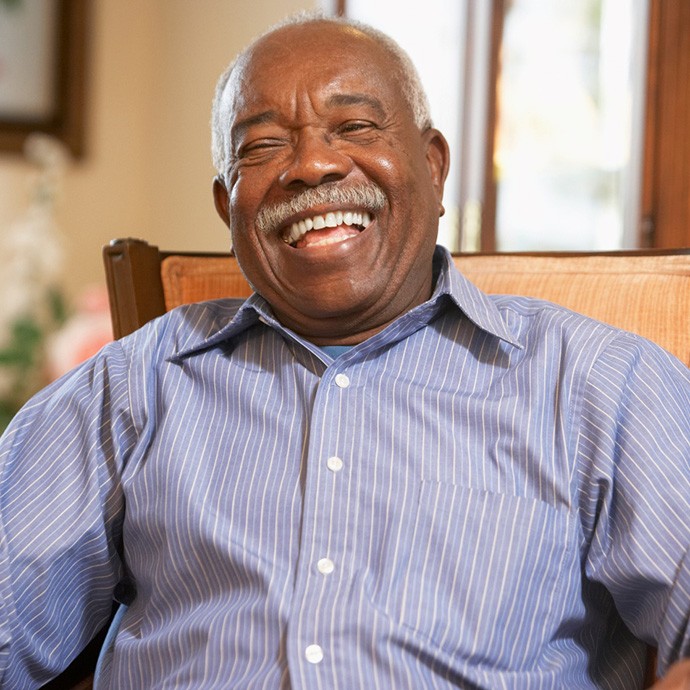 Choosing All-on-4 to rebuild your smile means you can enjoy all the benefits that come with dental implants. This includes:
Preventing your replacement teeth from shifting.
Stimulating the jawbone so that it doesn't deteriorate.
Allowing you to brush and floss your replacement teeth as if they were your natural teeth.
Providing the chewing power you need to eat most foods.
All-On-4 vs. Traditional Implants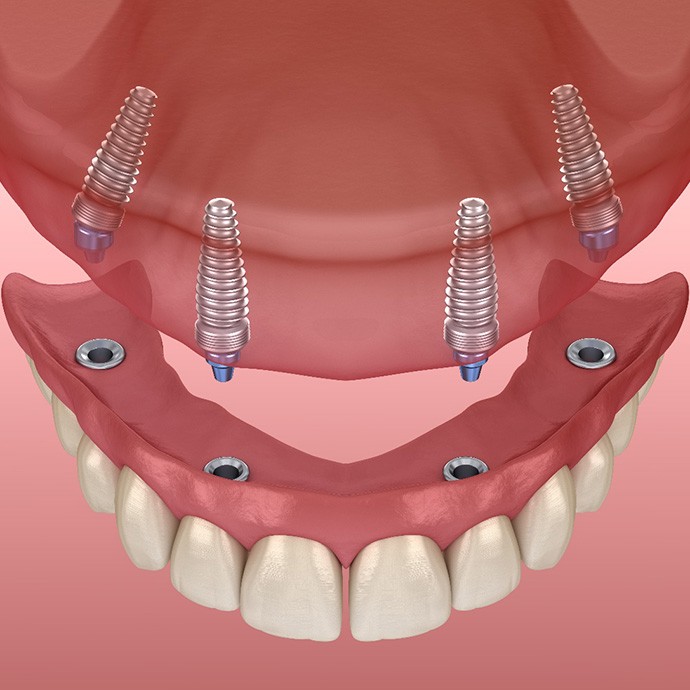 The All-on-4 procedure naturally shares many similarities with traditional dental implant placement, but it's important to remember that they aren't exactly the same. Below are some of the differences that you should be aware of:
All-on-4 Uses Fewer Posts: When dental implants are placed the traditional way, 6 or even 8 posts might be needed in order to support a full denture. But if All-on-4 is used instead, only 4 posts will be needed to complete the job.
All-on-4 May Not Require a Bone Graft: It's not uncommon to hear that you need a bone graft before you need to have dental implants placed. However, patients who choose All-on-4 are less likely to need a bone graft first.
All-on-4 May Let You Get New Teeth Right Away: It's sometimes necessary to go without teeth for a little while after having traditional dental implants placed. With All-on-4, you may be able to have a temporary denture attached immediately after the surgery.