Dental Implants – Longmont, CO
Modern Dentistry That Stands the Test of Time
Modern dental implant treatment is an incredibly popular solution to tooth loss among patients because it offers long-term, stable, and natural-looking and feeling results. Dr. Brian Coats is passionate about helping patients restore their smiles so they can improve not only their confidence, but also their overall physical health. To learn whether you're a good candidate for this procedure, we welcome you to contact our dental office to schedule an initial consultation to discuss tooth replacement with dental implants in Longmont, CO.
WHY CHOOSE BRIAN COATS, DDS LONGMONT COSMETIC & FAMILY DENTISTRY
FOR DENTAL IMPLANTS?
#1 Local & Family-Owned Dental Office
#2 Warm, Comfortable, & Caring Dentistry
#3 Advanced Diagnostic Technology
What Are Dental Implants?
Dental implants themselves are small titanium posts that are surgically placed into the jawbone and beneath the gumline to restore the root structures of missing teeth. Due to their biocompatible nature, they're able to chemically fuse with the bone through a process called osseointegration. This provides the restoration with a strong, stable foundation to be attached to and helps keep the bone from eroding over time.
The 4 Step Dental Implant Process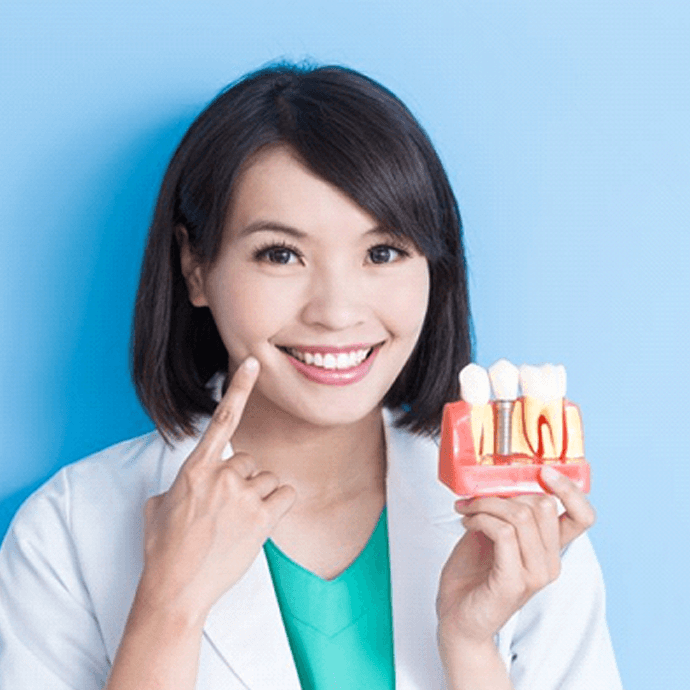 Compared to traditional restorations like dental bridges and dentures, receiving your dental implants will involve a more extensive process that may even take several months to complete. While this may seem like a lengthy timeframe at first, you should consider the essential benefits in the long run. Due to their superior stability and lifelike function, it's easy to see why they make a worthwhile investment. Keep reading to learn how dental implants work in Longmont and the steps you can expect to undergo for the treatment.
Initial Dental Implant Consultation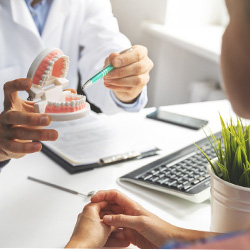 You'll first need to schedule a visit with our team about your potential restorations. During your consultation, your implant dentist in Longmont will speak with you about your smile goals and medical history to confirm if you'd be a good candidate for the treatment. Some patients may require preparatory procedures to be eligible for implants, such as periodontal therapy, tooth extractions, and bone grafting. Once we've addressed any underlying issues, we can move forward with your implants. We'll capture X-rays of your mouth and create a custom-tailored treatment timeline so you know exactly what to expect throughout the process.
Dental Implant Surgery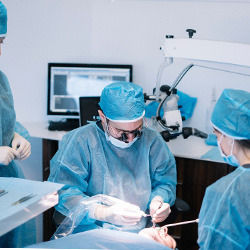 Before starting your oral surgery, our team will completely numb your mouth with a local anesthetic so that you remain pain-free. You may even be provided with sedation dentistry if you're feeling a bit nervous or anxious about your procedure. We'll then create a small incision in your gums to access your jawbone. Your implants will be embedded in their pre-planned positions and angles. Afterward, we'll suture your gums around the metal posts and place a protective dental cap over each implant to keep them safe while you recover.
Dental Implant Osseointegration & Abutment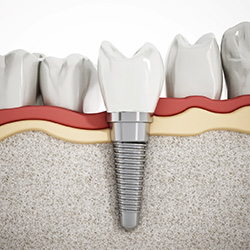 After your surgery, your implants will fuse with your jawbone during osseointegration, which is the crucial process for creating a sturdy foundation for natural-feeling restorations. This portion of your treatment may take between three and six months to finish. Once you've healed and the metal posts are properly bonded to your jawbone, we'll call you back in to place your abutments atop your implants.
Delivery of Dental Implant Restoration(s)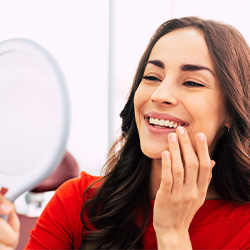 Your final restorations should be ready a few weeks after receiving your abutments. Once they arrive at our dental office, we'll call you back in to get your brand-new crown, bridge, or dentures (based on the number of teeth that need replacing). After placing your restorations, our team will take the time to ensure your bite is comfortable and that you're satisfied with the results. We'll make any necessary adjustments before sending you on your way to enjoy your newly restored pearly whites.
Benefits of Dental Implants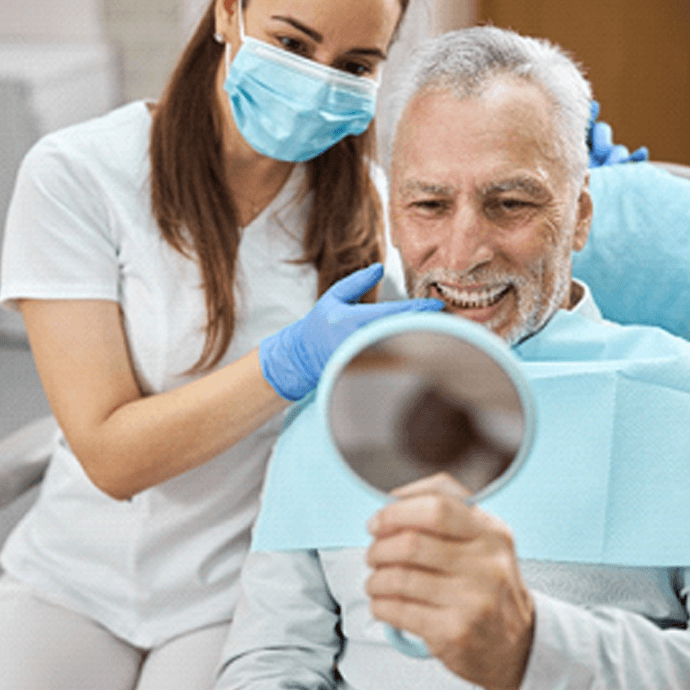 In recent years, dental implants have fast become a popular way to replace missing teeth. It's to the point that dentists place 500,000 of them every year! Still, this popularity is only natural — the benefits of dental implants in Longmont are many and lasting. These prosthetics fuse with the jaw, meaning their perks go beyond those of dentures and bridges. To learn more about such upsides, just keep reading or book a visit with our office. Coats Dental Group is happy to explain!
Day-to-Day Benefits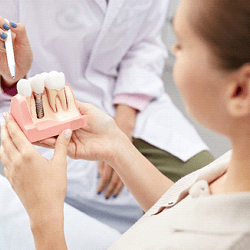 Once you get dental implants, you'll first notice their day-to-day benefits. After all, teeth — artificial or not — are necessary for various everyday tasks. The implants will thus help you with activities you'd otherwise take for granted. In particular, they'll offer the following:
Greater Confidence – For starters, implants will give you a full, beautiful smile due to their lifelike porcelain. The latter material ensures your new teeth blend seamlessly with the other ones. Consequently, they'll improve your body image and sense of self-confidence.
Improved Eating – Because implants fuse with your jaw, they're just as steady and secure as natural teeth. This stability, in turn, lets them restore more of your bite force than dentures or bridges can. In other words, then, implants help you chew your favorite foods — all without the risk of slipping!
Easy Care – Unlike other restorations, implants are pretty easy to clean. You only need to care for them like natural teeth, brushing them twice daily and flossing them once daily. From there, just attend your regular checkups — these visits let the dentist diagnose and treat issues before they threaten your implants.
Health Benefits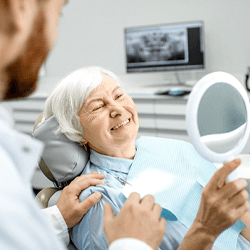 You might not know it, but implants are more than cosmetic. Besides filling out your smile, they also improve your body's health. Said advantages include:
A Strong Jaw – The jaw relies on teeth to stimulate and maintain its bone tissue. As such, losing them leads to the jawbone shrinking over time. Fortunately, though, implants can "fill in" for natural teeth and preserve your jaw's bone density.
Reduced Sensitivity – Dentures and bridges sit on your gums, so they sometimes cause tooth sensitivity and gum sores. However, bridges avoid these problems by fusing with the jawbone.
Less Tooth Loss – Left untreated, smile gaps cause surrounding teeth to shift out of place. This movement can lead to a crooked smile in the short term. In the long run, it can cause yet more tooth loss!
Long-term Benefits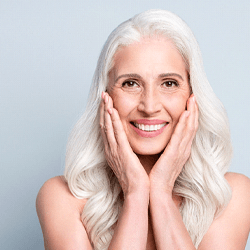 Though they aren't always considered, the long-term benefits of implants in Longmont are worthwhile. For example, take a look at those listed below:
Long Lifespan – The average dental implant lasts about 15 to 20 years. If given the proper care, though, these prosthetics can have a lifespan of 30 years or more.
High Success – Implant placement almost always succeeds, at least when done by a professional dentist. In fact, the treatment's overall success rate stands at over 95%!
Good Investment – Though they can have a high upfront cost, implants save you time and money over the years. They don't need frequent replacements as dentures and bridges do, so you don't have to pay for follow-up visits.
Who Dental Implants Can Help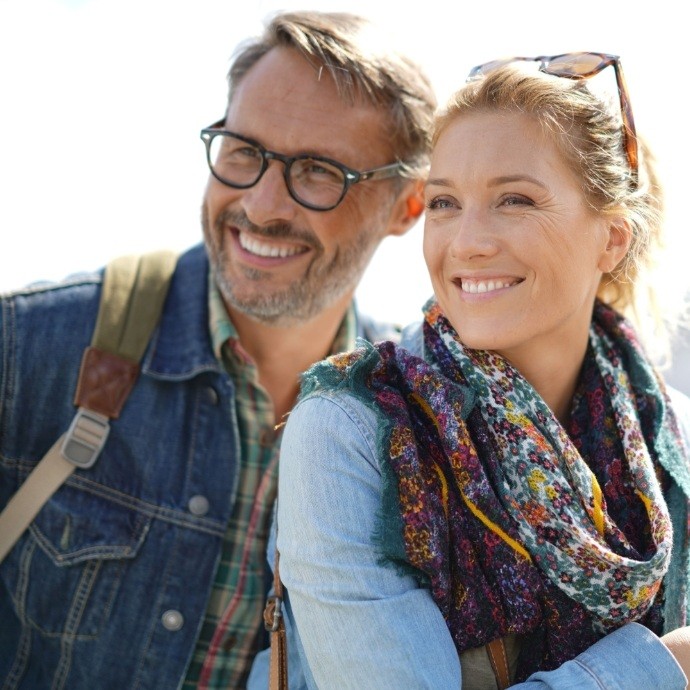 Dental implants can be a life-changing solution for missing teeth, but are they the best choice for your smile? We can answer that question if you schedule a consultation at our office. After we review your smile goals with you and examine your mouth carefully, we can explain what treatment options are available and point you toward the one that's best suited for your specific situation. If you do decide to have dental implants placed, we'll take the time to explain what you can expect the process to look like.
Who Is a Good Candidate for Dental Implants?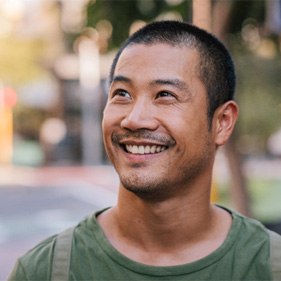 Being a viable candidate for dental implants means meeting the following criteria:
You need to be missing at least one tooth.
You need to have a healthy mouth, meaning no gum disease that can contribute to dental implant failure.
You need to have a strong jaw with a sufficient amount of bone to join with and support implants.
You need to be able and willing to take care of your new smile by practicing excellent oral hygiene.
Sometimes preparatory procedures are required before you can get dental implants. For instance, patients who don't have enough jawbone density might need to undergo a bone graft. We'll need to consider your overall oral health very carefully before we decide whether the implant process is right for you.
Missing One Tooth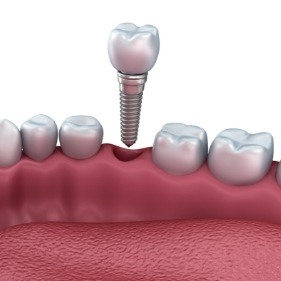 To replace a single missing tooth, we can place one dental implant below the gumline and into the jawbone to restore the root structure. Once it has fused with the bone, we'll attach an abutment and secure a customized dental crown to it to fill the gap in your arch.
The final crown will be made out of tooth-colored materials that can mimic the way real enamel reflects light. This will help your new tooth look as natural as possible next to the rest of your smile.
Missing Multiple Teeth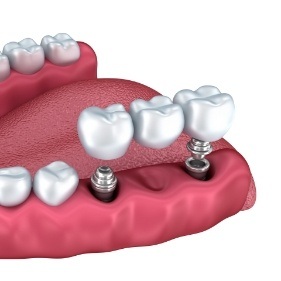 Instead of getting a traditional bridge that requires the alteration of your existing healthy teeth, we can secure a bridge with two dental implants placed on either side of a gap in your arch. Implant bridges are often recommended when three or more consecutive teeth have been lost.
Remember that you can also have a partial denture attached to dental implants if you are missing multiple teeth throughout an arch. The number of implants needed to support a dental bridge can vary depending on the extent of your tooth loss and the locations of the various gaps.
Missing All Teeth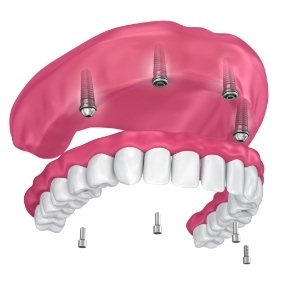 To enhance the function of traditional dentures, we can place anywhere from four to eight dental implants along your arch. They will secure your prosthetic firmly in place to prevent any slipping or shifting whenever you eat or speak.
Implant dentures can either be fixed or removable. You can brush fixed implant dentures as if they were your natural teeth, but they will require more implant posts for support.
Understanding the Cost of Dental Implants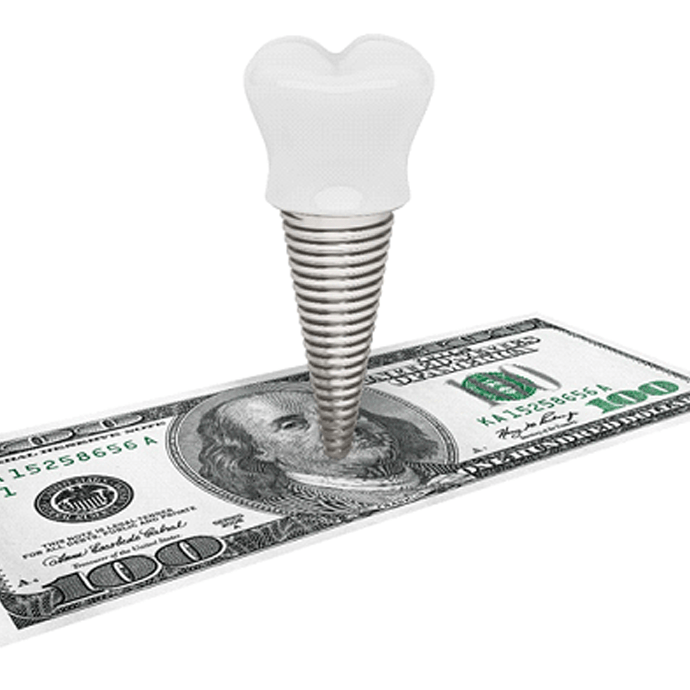 Dental implants offer lifelike, long-lasting results, and these effective smile restorations require patients to make a larger investment of time and money upfront than other solutions. Since no two treatment plans are exactly alike, our team at Coats Dental Group will walk you through every step and the price associated with each before we begin restoring your smile. With this in mind, keep reading to learn some of the factors that influence the cost of dental implants in Longmont, and contact our team with any further questions.
Preliminary Treatments & Dental Implant Surgery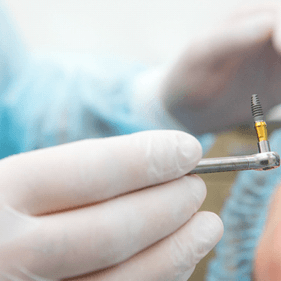 If you have existing oral health problems, you'll likely need preliminary treatments before moving forward with the dental implant process. Even though services like gum disease therapy, tooth extractions, and bone grafting will add to the overall cost of your treatment, depending on your case, they can be necessary to maximize the lifespan of your new smile. Fortunately, most of them are partially covered by dental insurance.
Keep in mind that dental implant surgery has a cost of its own. We perform placement and restoration at our office location, so you can rest assured you are investing in what will be a quality result for your smile.
The Parts of Your Dental Implant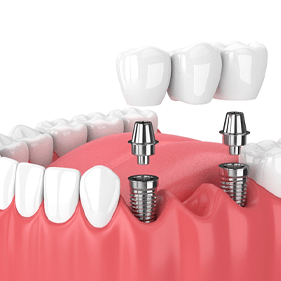 When it comes to dental implants in Longmont, the cost is affected by multiple factors, including:
Material – Implants made of zirconia instead of titanium typically cost less.
Brand – Manufacturers make dental implants differently based on the needs of each patient. Be sure to ask your implant dentist where you're getting yours from as well as any brand-specific benefits.
Number of Dental Implants – Obviously, replacing a single missing tooth with one dental implant will cost less than replacing an entire row with an implant denture.
Type of Restoration – Crowns, bridges, and dentures each cost different amounts. Expense corresponds to the size of the restoration.
How Dental Implants Can Save You Money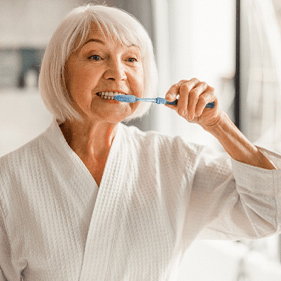 Patients on a budget often choose dentures or dental bridges as their method of tooth replacement because they're cost-effective. Even though dental implants have a higher upfront cost, they end up paying for themselves over time. For example, you won't need to spend on replacements or adjustments every few years.
You also don't have to worry about purchasing special pastes, solutions, or other products to maintain your rebuilt grin. All you must do is care for your implants like you would for your natural teeth! Since they're easier to maintain, you can more easily avoid oral health issues that would require costly dental treatment.
Does My Dental Insurance Cover Dental Implants?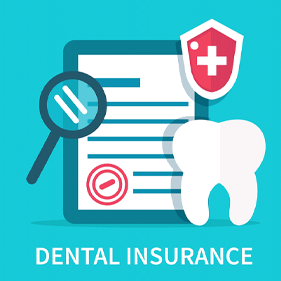 Most dental insurance plans do not offer coverage for dental implants. However, there are some exceptions. Certain parts of the final restoration or your preliminary treatments might be eligible for coverage. Before committing to anything, contact your insurance provider to confirm the details of your coverage. Our team is happy to help with that step if needed!
Making Dental Implants Affordable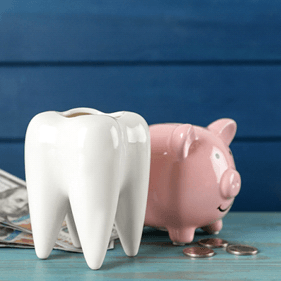 Don't have dental insurance? No problem! We work with third-party financiers to help make your dental bills much easier to manage. With CareCredit, you can sign up for low-to-no-interest payment plans to break up the overall cost of your treatment into smaller monthly installments.
Also, we offer a free dental implant consultation and CBCT scan! Contact our team to schedule your visit with an implant dentist in Longmont today.
Advanced Dental Implant Procedures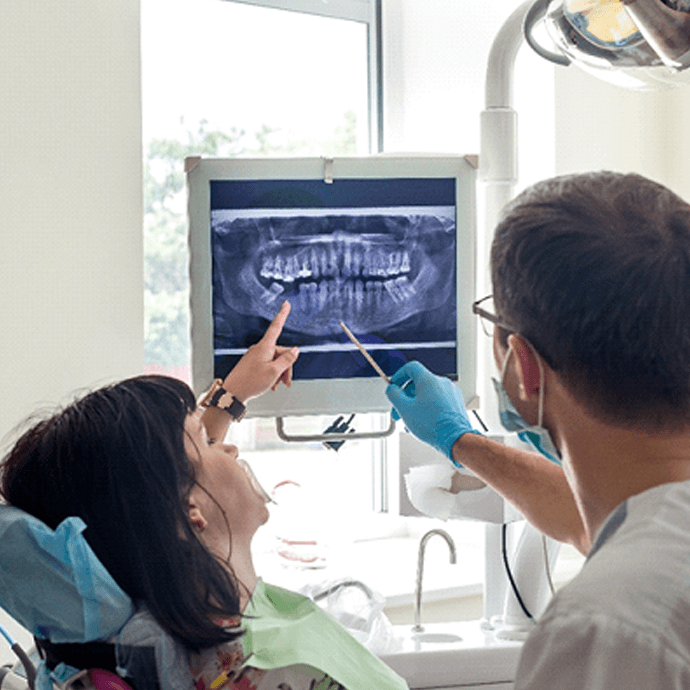 The first step on your journey towards a fully rebuilt smile is a consultation with our team at Coats Dental Group Family & Cosmetic Dentistry of Longmont. During your appointment, we'll determine whether or not your jawbone is durable enough for dental implants. It needs to be in optimal condition for the implants to successfully fuse and support a custom-made restoration.
If you're not initially a good candidate for dental implants, don't worry – all you need is a little bit of help! With advanced procedures like bone grafting, sinus lifts, and ridge expansion, we can easily prepare you for a dental implant procedure. To learn more about these treatments, continue reading or give us a call today to schedule an appointment!
Bone Grafting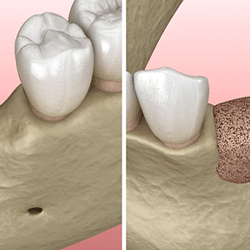 After dental implants are surgically placed into the jawbone, you'll need to wait about 3-6 months for osseointegration to take place. While you heal, this natural biological process will properly fuse dental implants with the bone and surrounding tissue. To ensure successful treatment, everything must come together to create a solid foundation for the restoration.
At your consultation, we'll assess your jawbone to determine whether or not you're a viable candidate for dental implants. If you don't have sufficient bone density, you can undergo bone grafting to catch your jawbone up to speed. It involves taking bone minerals from another location in your body and placing them into the weakened area of your jawbone. After several months of healing, you'll be ready to discuss dental implant placement with our team.
Sinus Lifts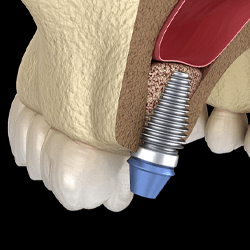 The upper back jaw is close to the sinuses and tends to have less bone density. As a result, it's more difficult to place implants in that area. Fortunately, we've got just the solution for that.
A sinus lift may be exactly what you need! It's a type of bone grafting that involves making an incision in the gums and creating an opening in the exposed bone. After the gums are opened, we'll expose the thin membrane holding the sinuses. Once it's pushed back and out of the way, the grafting material is added to hold it there. The recovery process for this procedure can take anywhere between four to 12 months.
Ridge Expansion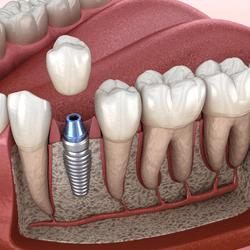 If your jaw isn't wide enough to support implants, you may benefit from ridge expansion. This process involves dividing the ridge bone and wedging apart the inner and outer segments of the bone. We'll create a space between the divided sections of bone and fill it with a bone graft. Depending on your case, simultaneous dental implants may be achieved during ridge expansion.
Dental Implant Failure & Salvage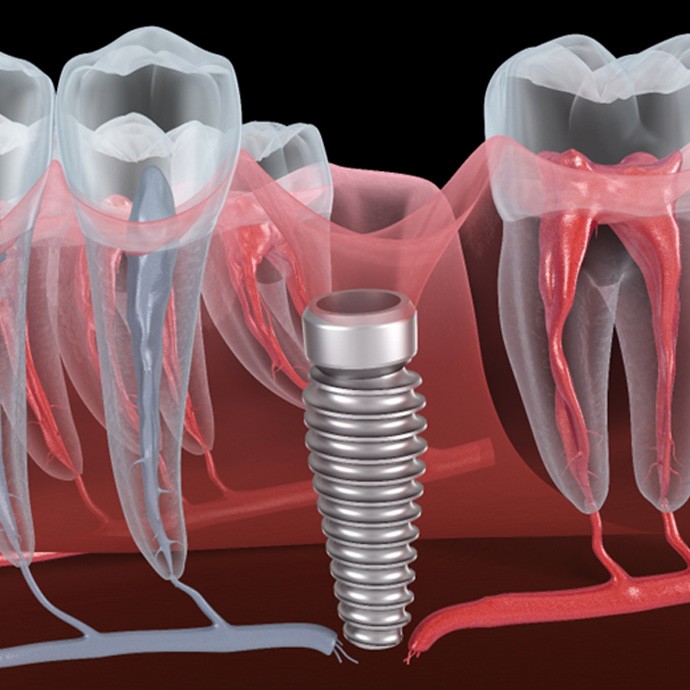 It's an unfortunate truth that while dental implants are extremely reliable, it is still possible for them to fail for several reasons, such as an infection of the gums. As soon as you notice a loose implant post or another sign of dental implant failure, reach out to our office to set up a consultation. We'll figure out what caused the problem and help you determine your best options for treatment in order to protect your entire smile.
Learn More
Dental Implants Post-Op Instructions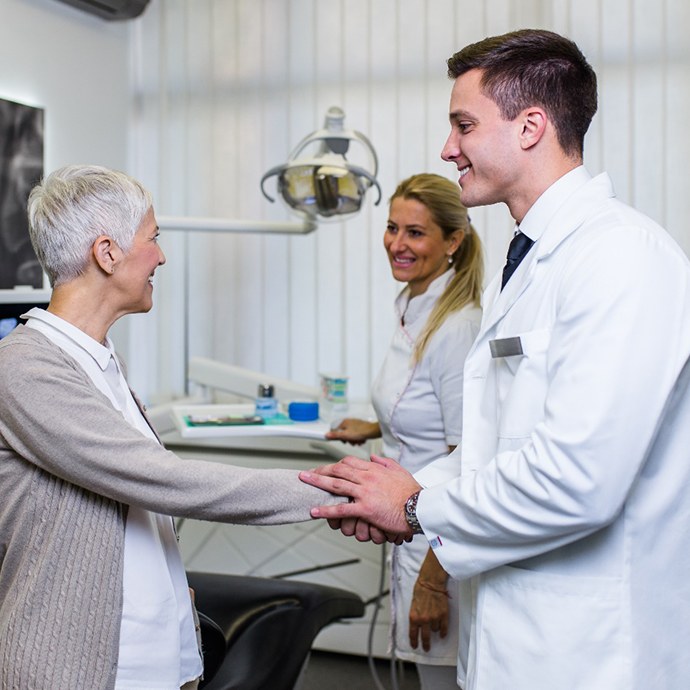 Our team at Coats Dental Group Family & Cosmetic Dentistry of Longmont will work with you through the entire dental implant process. Once you've undergone your procedure, you'll need to follow certain guidelines to ensure a smooth and proper recovery period. Read on to learn the essential dental implant post-op instructions so that you know what to expect after your treatment.
What to Do Directly After Dental Implant Surgery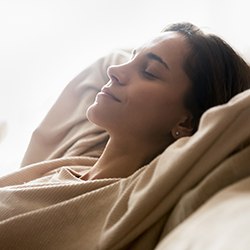 One of the most important parts of your dental implant recovery is the blood clot that'll form around the surgical site. To make sure you heal successfully, you'll need to avoid touching or disturbing the area around your metal post(s). During your recovery, follow these simple rules:
Avoid tobacco or alcohol use
Do not drink through a straw
Refrain from touching the implant site with your fingers or tongue
Common Side Effects When Recovering from Dental Implant Placement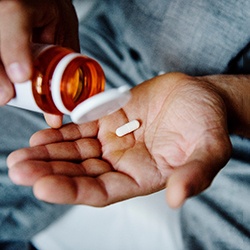 It can be difficult to know which symptoms are common or abnormal if you haven't undergone oral surgery before. Some of the usual side effects that you can expect after dental implant treatment include swelling, soreness, mild discomfort, and intermittent bleeding. While these should be short-lived, be sure to notify our team for help if they persist for too long or worsen over time. Here are a few ways to manage your symptoms:
Take prescribed or over-the-counter painkillers to alleviate pain
Apply a cold compress to the side of your cheek to minimize swelling
Put gentle pressure with a clean washcloth or gauze pad for any bleeding
Your Diet After Dental Implant Surgery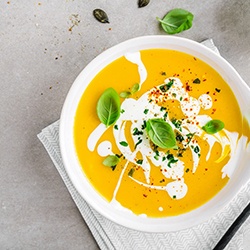 Since you won't want to disturb the implant site while it's healing, your diet will have to involve mostly soft foods. Once you've recovered enough and the blood clot is formed and healed, you can gradually consume more solid meals while still avoiding the surgical site. Here are typical foods you should consider during this period:
Soups and broths that aren't too hot
Yogurt
Pudding
Applesauce
Mashed potatoes
Scrambled eggs
Ice cream
Post-Op Health & Oral Hygiene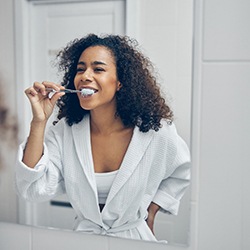 Maintaining a clean mouth is essential for your dental implants to work. This will allow your gums and jawbone to remain safe as your titanium posts integrate with the bone tissue. Be sure to practice the following at this time:
Brush twice a day while being extra careful around the implant site
Avoid flossing around the implant during the healing process
Rinse with salt water 2-3 times every day to eliminate bacteria. Let the water pour from your mouth instead of spitting it out
Avoid mouthwash consisting of alcohol, which can cause discomfort
What to Do After Your New Teeth Are Attached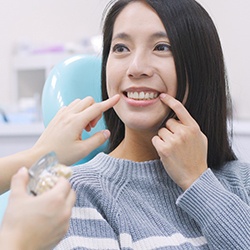 After you've recovered properly, you'll return to our office to receive your new dental crown, bridge, or denture. Your gums may feel slightly sensitive after getting your restoration attached, but you can easily manage this with pain relievers. Notify us immediately if you notice any swelling or bleeding after getting your new pearly whites, that way we can address it before it worsens. Other than that, you'll be free to show off your newly rebuilt smile for many years to come!
Dental Implant FAQs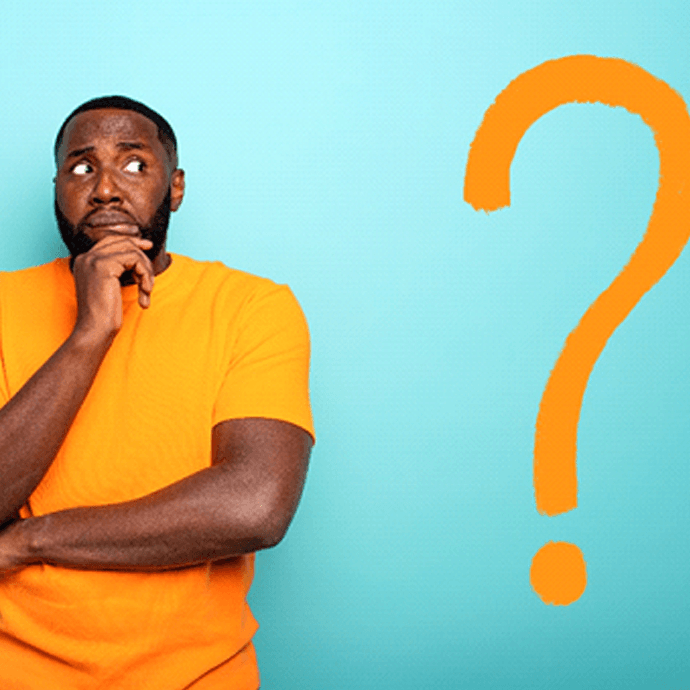 Still have questions about dental implants? We want you to feel confident in your decision to restore your smile with dental implants, so we'll be more than happy to answer all your question in person during your consultation or over the phone. In the meantime, we've gathered a few of the most common questions we get about this revolutionary tooth replacement option below so you can learn more!
How Long Do Dental Implants Last?
While the restoration on top will last anywhere from 15 years and up, you can expect your dental implant to go as far as several decades to a lifetime! That said, their longevity will depend entirely on your oral health and lifestyle habits. Without good oral hygiene, you may increase the risk of infection or developing gum disease—both of which can negatively impact the lifespan of your titanium posts.
To make the most of your dental implants, be sure to brush twice a day, floss daily (or after every meal), and rinse frequently with mouthwash. Visit your dentist biannually for checkups and cleanings, which can significantly lower your chances of oral health problems. Furthermore, avoid practicing bad oral habits, like chewing on ice or opening packages with your teeth. With proper care, your implants can last several times longer than restorations like dentures and bridges!
Does Getting Dental Implants Hurt?
Before beginning your procedure, our team will ensure your mouth is completely numbed with a local anesthetic. This will help you stay pain-free throughout your entire appointment. Additionally, since your jawbone doesn't have many nerve endings, you likely won't feel much discomfort during the process other than some mild pressure. Our team may also offer you sedation dentistry, which will help you remain calm and relaxed as we work on your smile. While you won't feel much pain during the surgery, you may experience soreness for several days afterward. This can be managed by taking over-the-counter or prescribed pain relievers as well as a cold compress to alleviate swelling and discomfort. If your condition worsens or doesn't improve after two or three days, however, notify your dentist right away.
How Long Does It Take to Recover from Dental Implant Surgery?
Most patients can continue their normal daily activities 24 hours after their procedure. That said, you'll need to have plenty of rest for your jawbone and gums to heal around your implants. This means you'll want to avoid strenuous exercise, at least for the first week or so, as this can interfere with your recovery process. Some bleeding is normal and should stop after two days, while any swelling should fade after three to four days. Just be sure to take your pain medications as instructed, and avoid any oral habits that can end up delaying healing. In most cases, your implants may take up to six months to completely fuse with your jawbone.
Can I Get Dental Implants If I Smoke?
Although it's possible for smokers to get dental implants, they do have an increased rate of dental implant failure. By smoking, chewing, or using tobacco, you can end up with dry mouth and slow your recovery process, which can interfere with your implants' ability to integrate properly with your jawbone. Smoking can even result in dry socket and cause the blood clot to dislodge from the implant site. To increase your success rate, you'll want to either quit tobacco completely or avoid it at least two weeks before your appointment and two to three months after you receive your metal posts.